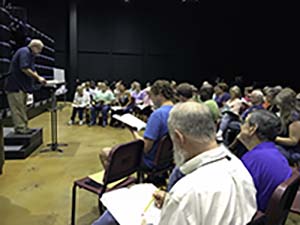 The Choral Society of Greensboro accepts singers from the local community to join us in performing the great works of classical and contemporary choral literature. Joining is simple and we hope you will consider becoming a part of our singing family. Please see below for extensive information for new, prospective, and returning members. Also, we welcome you to enjoy this short video overview of what the Choral Society is all about.
Registration for "Requiem in D Minor" starts Tuesday, February 15th. See below for more info!!

Why the Greensboro Choral Society?

Singing can be challenging, hard work, but the learning process is rewarding, and when everything comes together, there is a wonderful sense of accomplishment and satisfaction. Singing beautiful music engages not only the mind but also the emotions.


Our members are committed singers who love to learn new, and sometimes challenging, music and perform it at a high level. You can find some recordings of our performances here.

Being part of a group of others who like to sing as much as you do is fun! We are serious singers, but we are also lively, friendly and interesting people, and we have a lot of fun together, including socials and other opportunities to get to know other chorus members.

We are the oldest, large chorus in Greensboro that regularly performs major choral works such as Mozart's Requiem, Handel's Messiah, Beethoven's Choral Fantasy, and Forrest's Requiem for the Living with orchestral accompaniment. From time to time, we also perform "pops" concerts as well.

We are privileged to have very experienced, professional leadership. You can read about our conductors and accompanists here.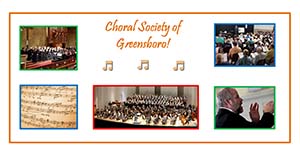 We are a program of Creative Greensboro. There are expected dues for each season, but no charge for use of music. There are scholarships available for those in need. In addition to semester dues, we ask those who are able to give what they can to help us pay the professional musicians who accompany us, but we welcome everyone with open arms, regardless of whether you can donate.

We prefer experienced singers, but no audition is required to join.

We welcome participants from every background and age group, from college age to senior citizens.

What Do We Ask of You?

To join us, the ability to read music at some level will be helpful. Also, at least a bit of experience singing the kind of music we usually perform is helpful but not required.

Most everyone has to miss a rehearsal occasionally, but you need to be willing and able to attend rehearsals regularly. You also need to be sure that you can attend our dress rehearsals and performances. You can find our rehearsal and performance schedule here and read about our attendance policy here.

If you do not already have it, you will have to procure the required concert attire - a tuxedo for men and a specific type of black dress for women. You can read about concert attire here.
How Do I Join?

All you have to do is come and register a half hour before the first rehearsal of a concert period. You can find information about our rehearsals and our rehearsal schedule here. If you cannot attend the first rehearsal, you can also register at the second or, in an emergency, at the third rehearsal of a given concert cycle.

You will need to fill out a registration form. You can register online at the link below or in person during the initial registration period.

Online Membership Registration Form
Our registration form has moved online for the 2021-2022 season!
All new, prospective, and returning members should complete the online form linked below before the first rehearsal, if possible:

Choral Society of Greensboro Online Member Registration Form